Breaking news, just discovered today email marketing world!
It's no secret that we love the dynamic call to action and on-site retargeting service ConvertFlow. If you didn't know already, it is perhaps our favorite email marketing tool next to Drip itself (and we use a lot of online services).
That's why when Jonathan from ConvertFlow revealed a not-so-little Easter egg via email today, that ConvertFlow 2 was within sight on the horizon, the excitement got real.
Here's a quick recap of why: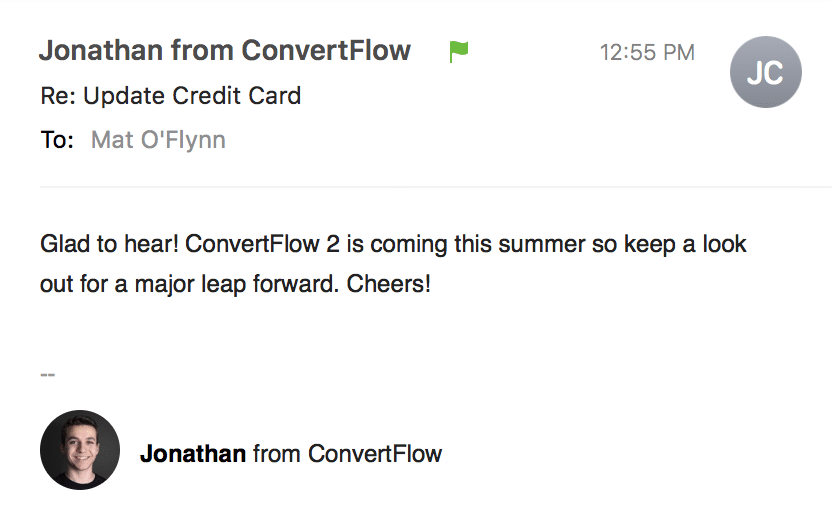 Reason #1: Lead Generation That Looks Good
ConvertFlow's lead generation forms and opt-in options look good. Really good. And what makes them so streamlined is the ability to automatically hide fields that you've already gathered to make the sign-up process a breeze. 
You can even segment anonymous visitors based on the actions they take on your site. When they subscribe in the future their once-anonymous website history gets attached to their subscriber record helping you make the better marketing decisions moving forward.
Reason #2: Increased Conversions that Look Even Better
Lead generation is great but on-site retargeting is better. That's because it's so much easier to convert returning subscribers into paying customers than first-time visitors alone. And this is where ConvertFlow really shines. 
By showing different calls to action, ranging from embedded CTAs to pop-up CTAs to side-hooks and more options, to specific segments of your list, ConvertFlow allows you to talk directly to the subscriber, wherever they are in your sales process. As they advance through your funnel so do the CTAs on your website.
Right when you think it couldn't get cooler, you can add these dynamic CTAs to 'Flows' to continually guide subscribers through your funnel, where first-time visitors see one message or call to action and then when they return to the same page see a new series of, perhaps, prospect CTAs, then eventually lead-specific CTAs, customer CTAs and any other combination or targeting you can dream up. 
When you talk directly to the subscriber as the prospect, customer, referral customer, that they are you can shape their experience in the most complimentary and powerful way imaginable − increasing conversions along the way.
Reason #3: All the Integrations
From direct integrations with Drip, Infusionsoft, MailChimp, ActiveCampaign, AWeber, ConvertKit, Hubspot, Campaign Monitor, Get Response, Ontraport, Autopilot, LeadSquared, Intercom and WordPress to the nearly endless possibilities with Zapier, ConvertFlow integrates with everything you're already using. 
Reason #4: Join ConvertFlow!
As is typically the case with SAAS companies, it pays to be an early adopter. And if ConvertFlow 2 is launching summer 2018 you'll probably want to lock in your membership now to take advantage of any potential existing-members-only upgrade discounts that are sure to ensue. 
If you do decide to join ConvertFlow and you use our affiliate link please let us know and we'd be happy to give you a free Drip Email Template of your choice! 
Until next time, when we'll be sure to cover the new features loaded into ConvertFlow 2!